Shutter Options

Interior window shutters offer a stylish alternative to other window dressings. There are many different styles available. You can choose the slat size, tilt rod, colour and choice of hinges.
Full Height
Perfect for those wishing to keep the shutters closed most of the time using the louvres to control light and privacy.

Covering the full height of the window, this is one of our most popular and flexible installation styles.

The shutters work as two separated panels, one on each side of the window, which can be operated independently. This means you are able to choose whether you wish to let some light in by opening one panel or add privacy by closing them completely.

Full Height with Mid-rail
They are a useful feature for key living spaces, such as living rooms, bedrooms or areas which are next to roads.

Commonly specified with a mid-rail on windows over certain heights, to provide the highest levels of privacy and light control, the shutters panels are split into sections, with separate tilt rods.

You can have multiple mid-rails if required and these can be positioned to line up with the overlap of a sash window or the horizontal window bar.

Tier on Tier
Ideal for when you wish to keep the bottom section closed for privacy but open on the top section for additional light.

These cover the whole window but there are independent panels top and bottom, opening like a stable door. This allows for control over each half of the structure separately to make the most of light, the view or provide you with privacy.

This allows the top tier of panels to swing open independently from the bottom set, thus allowing the choice of either total privacy or of full light to enter through the top window, leaving the bottom section closed if necessary.

Cafe Style
Cafe Style blinds work well to give you privacy at the bottom of your window if you are close to a road or overlooked.

Ideal for ground level windows and town houses, cafe style leaves the top of the window un-shuttered, using only shutters for the bottom part.

They are typically used on tall windows that stretch to the majority of the walls length.

A great advantage of this style is that it maximises light whilst providing privacy.

Solid Shutters
Solid shutters are exactly as they sound, solid shutters cover the whole window, with either one whole shutter or one on either side of the window.

Solid shutters have been used in the UK for more than 200 years and provide a more traditional finish to dressing your windows.

Added benefits are that these panels offer near blackout and also provide high levels of noise insulation and perceived security.

Special Sizes
Our custom-made special shape shutters are designed to fit perfectly into any window shape and can be a practical and stylish solution for even the most difficult windows.

Special shaped shutters can be used for different circular, arched and triangular shaped windows.
We have a choice of 5 slat sizes depending on the look that you are after and the level of light and coverage you would like.

Basswood Shutters are available in 64mm and 89mm only. All slat sizes are available for our Poplar Wood, Elm Wood and waterproof vinyl shutters.

Central Tilt Rod


For a more charming look the traditional style tilt rod is the way to go. Elegantly placed in the centre of your shutters the rod is used to adjust the louvers.

Hidden Tilt Rod

For those lusting after a more clean finish the hidden tilt rod leaves clean lines for a fresh look, the mechanism is built into the shutter so there is no visible rod.
Refined choice of 4 white and neutral shades
Classic Poplar Wood
Choose from 10 neutral paints or 9 warm wood stains. Custom colours also available
Premium Elm Wood
Choose from 10 neutral paints or 10 warm wood stains. Custom colours also available
Waterproof Vinyl Plantation Shutters
Refined choice of 6 white and neutral shades
As well as the standard colours, we can also offer a colour match service so your blinds can be painted in the colour of your choice.
This is only available in the Poplar and Elm range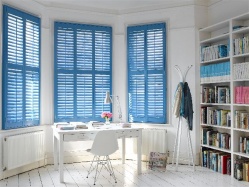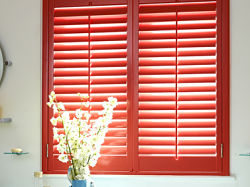 As a rule, we advise matching hinges to the finish colour for painted shutters, or picking a complementary metal tone for natural wood finishes. All our hinges come with matching screwheads to keep hinges looking neat and tidy.
Our Basswood Shutters are only available with white and ivory hinges.
| | | | |
| --- | --- | --- | --- |
| | | | |
| | | | |
| | Our waterproof vinyl plantation shutters are supplied with Stainless Steel Hinges | | |
Magnets
| | | |
| --- | --- | --- |
| | | When you open a Shutter Shed shutter, it stays open and stays put. We use magnets on our shutter panels and corresponding magnet plates on the frame to keep shutters firmly in place through knocks or winds. |